Work Much Easier With The Latest Google Apps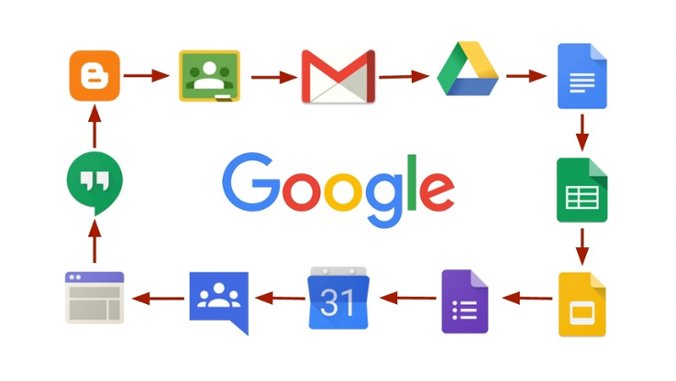 90,000 hours. That's the amount of time the average person spends working during their lifetime. To put that in perspective, if you spend 90,000 hours watching movies and did nothing else — no sleep, no breaks — you would be watching for 10 years non-stop.
Since you spend so much time at work, we want you to have the latest Google Apps updates when they're available to make working easier. That means your apps have the latest tools, security updates and speed improvements — as soon as they're ready. And that applies across the Docs editors as well. So as a busy 2014 comes to a close, we want to highlight a few of the new ways get things done with Docs, Sheets, Slides, Drawings and Forms.
Work with any kind of file
You come across all types of files all day. The last thing you want to worry about is what software you need in order to view or edit these files. For this reason, we made it so you can open and edit Office files directly in Google Docs, Sheets and Slides, on your desktop, phone or tablet.
Make suggestions
Editing files in real-time with others is a great way to work together across the Docs editors, and many of you asked for the ability to suggest changes in other peoples' documents, rather than making edits directly. Now you can do just that with Suggest Edits in Docs. Make suggestions that can be accepted or rejected with a single click. And when you convert a Word file to Docs or vice versa, your tracked changes will convert as well.
Work on any of your devices.
We created new mobile apps for Docs, Sheets and Slides across Android and iOS, where you can edit your documents, presentations and spreadsheets on the go. While working in the cloud means you have access to your documents on any of these devices, you can still access or create documents even if you don't have a data or WiFi connection.
Edit your images directly
Sometimes the best way to convey a thought is visually and you need your images to look just right, which is why we made it easier to edit and adjust images. You can now crop your images, even masking the crop to specific shapes, and add borders in Docs, Slides and Drawings. Plus, you can connect objects and images in Slides and Drawings, recolor and change opacity of images in Slides, and even add effects.
Get things done faster
We want to help you take care of your common tasks. And you know what lots of people make in documents? Bullet lists. So now, just type an asterisk (*) and it will automatically become bullets in Docs and Slides. Nobody likes having to do the same thing twice (unless you're Santa) so just copy and paste your charts between different spreadsheets in Sheets. For all the regression lovers out there, you can also add trendlines, and to further visualize trends, you can add miniature charts, or sparklines, into individual cells.
Get answers to your surveys
Forms is a great way to gather information, and across 2014, we added lots of new ways to ask questions and get answers. You can customize themes in Forms to add your own flare and create short URLs that are easier to share. There are also lots of new question options, like limiting one response per person and shuffling the answer order.
Add tons of functionality from 3rd parties
Add-ons for Docs, Sheets and Forms are tools created by developers that help you do those extra things you need help with, whether it's printing mailing labels or adding MLA-approved citations, right from your document.
Let there be tables
You can add borders and backgrounds to your tables, and merge cells together to get your tables to look just how you want. And when you convert your legacy files to Docs, the table cells and borders will still be there so you can keep working
And let everyone, including blind and low-vision users, get work done
Across Docs, Sheets, Slides, Drawings and Forms, it's much easier to use a screen reader, with better text-to-voice verbalization and improvements to keyboard navigation. You can now use braille support to read and enter text in Docs, Slides and Drawings. And you can collaborate easier with others in Docs, Sheets, Slides or Drawings because screen readers announce when people enter or leave the document, and you'll hear when others are editing alongside you.